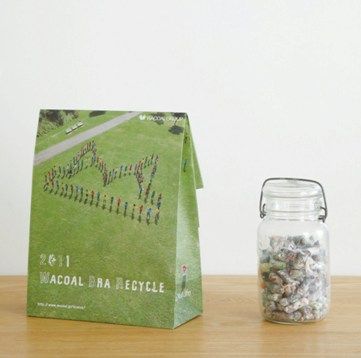 Wacoal and Triumph, two large lingerie brands, have been collecting old bras from their Japanese customers.
After removing the metal underwires, the two companies process the fabric into refuse paper and plastic fuel (RPF). Then, the final product—tiny RPF pellets (pictured above, in the clear jar on the right) —is put to use running important industrial equipment like boilers and generators.
But why bras? Unlike other apparel, undergarments usually cannot be resold or repurposed. This means the only real and likely end of life option for underwear is the landfill.
This is because bras are made with different textiles, plus they need metal for structure. This complex composition makes it difficult for the bra to be made into a new textile product. But, by stripping the metal from the garment, it can easily be renewed as RPF.
Wacoal and Triumph both currently collect old bras from customers in Japan at their retail outlets. Wacoal has also extended this program to Taiwan. And it appears that the recycling program has been a success so far! Since 2009, Triumph has collected 200,000 bras and produced 14 tons of RFP. Wacoal has collected 179,200 for 17.9 tons.
Read more:
Wacoal to Run 2011 Bra Recycling Campaign in Japan and Taiwan – https://www.japanfs.org/en/news/archives/news_id030646.html