Have you been wondering how to sample the zero waste way?
Providing samples is an incredibly effective way to get your brand noticed. Item sales can increase up to 74% over a 20-week period according to a study from R.I.S.E. (Report on In-store Sampling Effectiveness).
Sounds like a no-brainer…but what about all that waste?
As your compostable foodware expert, we are proud to offer the perfect solution. BSIbio is now stocked with EcoTasters! These certified compostable tasting spoons offer an aesthetically pleasing look and feel, which allow your customers to enjoy the texture and flavour of your tasty samples.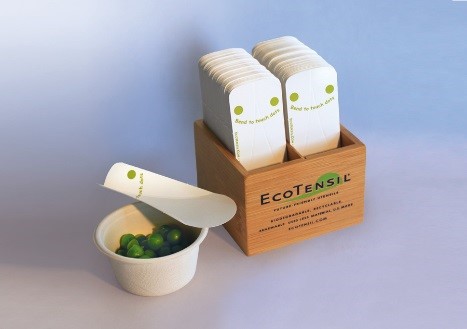 EcoTensil shares BSIBio's dedication to provide high quality foodware with sustainable end-of-life solutions. For organic, sustainable food samples, compostables are the best choice that reflect the values of the brand.
"As a natural food product demonstrator I consider EcoTensils an absolute blessing. I love that they are compostable, compact, strong and so darn cute. Samplers are always impressed with the simple act of pressing the two green dots together and you've got a spoon!"
– Christina Young, demo operator with Indigo Natural Product Management
We have two fully compostable EcoTensil Sample Spoons for you.
• EcoTaster Mini Tasting Spoons for Mini Samples
• EcoTaster Mid for Bigger Bites and Plating
EcoTasters are provided in a space efficient cube – get the starter kit with a bamboo display box to kick off your new sample spoons!
To order your EcoTasters or to try some samples please call 604-630-5115 or email our sales team.