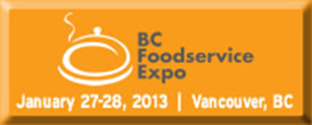 The BC Foodservice Expo is Western Canada's largest hospitality tradeshow. This year, the Expo took place on January 29th and 30th at the Vancouver Convention Centre.
The BSI team was especially happy to see the strong emphasis put on sustainability by the food service industry. The presence of the sustainable food service community was all around us throughout the two-day event. We saw many exhibitors showcasing a variety of sustainable innovations.
Sustainability was also a hot topic with Expo visitors, who were hungry for more information on our compostable food service ware product line. It feels like the industry is finally at a stage where most people are aware of biodegradable products— and are also on the hunt for better solutions to fit their disposable food service ware needs (hooray!).
At this stage of heightened awareness for compostable products, we noticed that both businesses and culinary professionals were very impressed with our sustainable vision and standards. We had some great conversations with industry buyers and competitors alike, all of them doing their best work to make the foodservice industry more sustainable.
A BSI-specific highlight
Overall, BSI definitely stood out from the 299 other booths exhibiting at the Expo. We were proud to receive a Special Recognition Award for outstanding booth design, concept and interactivity by the trade show's organizers, and Celebrity Chef David Adjey.
We are proud of our successful two-day showing at the 2012 BC Foodservice Expo. Now, we'll sit back and reflect on a satisfying experience filled with great new connections, engaging information, and positive conversations!
Did you catch us at the BC Foodservice Expo? What did you think of the event?