This is the fifth and final post in a 5-part series following the journey from certification to acceptance of our compostable food ware products in the Metro Vancouver region. Read Episodes 1, 2, 3 and 4 for the background on this story. And don't forget to bookmark our blog to follow along…
Be sure to tune in for our compostable education materials to follow!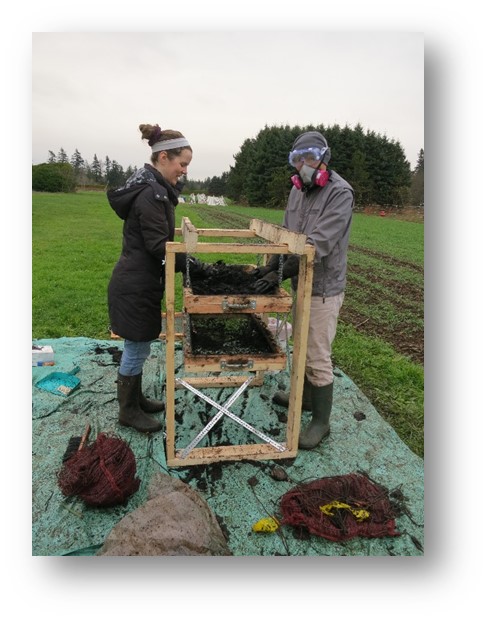 We returned to the facilities many times throughout the fall. Our Research team carefully retrieved test bags from Revolution Resource Recovery, Whistler Compost Facility, and Harvest Power. Then, back at the UBC Farm, we spent some sunny but cold winter days sifting through the compost for our products, with some amazing results.
The compostable bioplastic (PLA) materials – usually the ones which aren't accepted at compost facilities – are actually the first products to break down! We saw disintegration start in the puffed PLA 'biofoam', followed by cups and deli containers, and finishing up with the cutlery.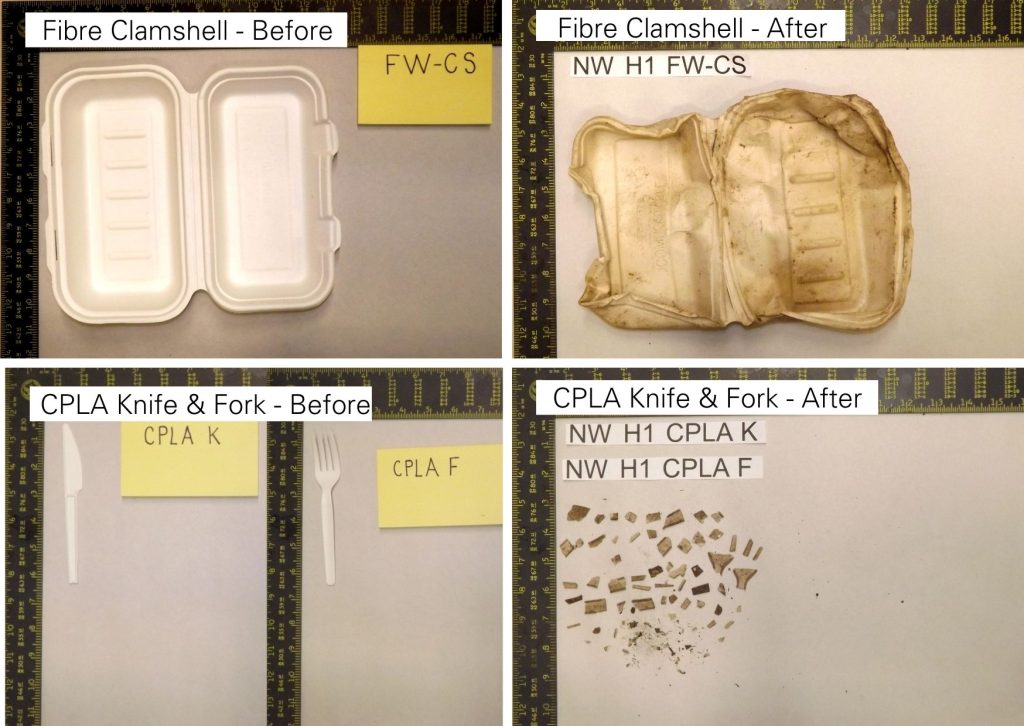 More surprising, there are cases where fibre-based products, which seem easiest to break down, don't degrade. In the 'After' column on the right, you can see there was enough heat and moisture in the 3 1/2 month period to break down the compostable cutlery, but not to break down the Fibreware™ clamshell.
We found PLA products that were still intact, but opaque. That shows they didn't reach the 55-60 degrees Celsius required to begin composting PLA. We also had bags with completely intact control materials (Kraft paper bags). This suggests that a number of environmental conditions, from moisture to pH, were not ideal.
What does all this mean?
We have more work to do! We're motivated and inspired by watching our products disintegrate week by week. An added bonus was provided by the facility operators we met along the way. Hearing their support for our mission of increasing organics diversion and reducing waste going to landfill was wonderful. Thanks to these operators, who have reaffirmed our faith in the third party compostability certifications we hold.
We're also concerned by the situations where the products don't degrade as expected. Over the coming months and years, we'll continue to partner with other packaging providers, universities, researchers, and the composting industry across North America. Together, we will work to to solve some of the unanswered questions coming out of our research.
There is another beginning from this study – The Compost Council of Canada hosts an annual "Compost's Giants" contest. The prize goes to the largest pumpkin grown with only compost, no fertilizers. Realizing this was an awesome event, we signed up for our pumpkin seeds at the Compost Matters conference in Victoria in March 2015, and eagerly awaited the right time to plant.
We don't have any great planting spaces at our office itself, but the Montessori School next door offered a small plot. They (and we) loved the idea that their students would be able to watch our pumpkin plant grow. So, we enriched the soil with tried-and-true Harvest Power compost, and added some of the compost left over from our study!
Bookmark our Blog, and Stay Tuned for more posts on our lessons learned in testing BSIbio's compostable/biodegradable foodware!
BSIbio dug into the compost at regional facilities with the University of British Columbia to make sure our products return to the earth.
We know our products will never disappear, and can only be converted into something else.
Why do you care? Compostable products become a part of our Canadian landscape through the soil. When you buy these products, you want to be sure they really do what they say they do, breaking down completely and safely. This research is essential as we strive for truly responsible compostable products. Your interest and support of our mission helps make it happen!